INTRODUCING THE LATEST HOLLYWOOD SKIN CARE SECRET.. VI PEEL
A CHEMICAL PEEL THAT CAN CHANGE THE LOOK AND FEEL OF YOUR SKIN.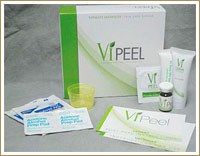 What is a VI Peel?
The VI Peel is a specially formulated, medical-grade chemical peel designed to improve skin's appearance when struggling with sun damage, acne, or the signs of aging. The skin on the face, hands, chest, or other areas of the body can be rejuvenated as unsightly wrinkles, acne, unevenness, age spots, and more are reduced in appearance, while youthful collagen production revives skin from the inside out. VI Peels have proven effective in the treatment of numerous forms of skin damage, and can also help in the removal of precancerous skin cells.

The Vi Peel is a skin transformation system that gives you dramatic results in just a few days – all without any surgery! When some peels can cause discomfort, the Vi Peel is virtually pain free, with minimal downtime.

How does the Vi Peel work?
Vi Peel is simple and easy! The peel application process generally takes less than 30 minutes, and you will leave it on your skin for five hours before you wash your face. The Vi Peel works by removing the top layer of the skin, revealing a smoother, fresher more youthful appearance. The topical exfoliants work to remove sun damage, improve acne scars, and spots. Results are generally revealed after one application, but repeat treatments guarantee continued skin freshness and vitality.
What's in it?
It's not a salicylic, glycolic or any of the typical aesthetician peels -- it's VI Peel!!

It's a combination of phenol, retinol, and salicylic acids that create a highly potent cocktail that will provide amazing results-- depending on your skin issues.
Benefits of using Vi Peel:
Prevents and reverses aging process
No skin pre-conditioning for any skin type
Painless
Gives you healthy, gorgeous skin that doesn't require make up
No more wasted time and money on products that don't work
Formulas for all skin types
Diminishes fine lines/wrinkles and minimizes the appearance of pores
Tones, firms and stimulates collagen production
Superior protection from sun and environmental damage
Meet The Creator Of The Vi Peel
Dr. Kalil, the creator of the VI Peel and the Medical Director of the Vitality Institute

Founder A.F. Kalil, M.D., Kalil Medical Products, Inc. is dedicated to creating innovative "Next Generation Aesthetic" products to the medical community. Vi Peel™ represents a true breakthrough. This chemical peel is safe, simple, practical and virtually painless, with superior results.

Kalil Medical Products' proprietary formulas give dramatic results with minimal discomfort or downtime. A simple, practical three to four minute Vi Peel application produces dramatic results in only seven days. Caring for the skin requires just two to four visits per year for the Vi Peel, to enjoy firmer, clearer, more radiant skin, for a healthy, youthful appearance.
Vi Peel Acne
NEW!!
Vi Peel has now developed a new formula with the power of Benzoyl Peroxide and Kojic Acid to drastically improve acne prone skin in just 7 days!
Vi Peel Acne is a safe, effective approach to achieving clearer skin. This peel will not only clear active acne but will also diminish the marks acne leaves behind. The peel provides superior results for all skin types. We suggest a series of 4 Acne peels spaced about 4 weeks apart for initial treatment. Then maintenance of at least 3 peels a year or as needed, depending on the severity of the acne.
The Advanced Plastic Surgery Center offers a five-star experience and a non-surgical approach to maintaining your beauty and youth as you age. Look younger and more vibrant in just one visit! Eliminate signs of aging with non-surgical treatments such as BOTOX Cosmetic, Juvederm, Radiesse, Restylane and the latest Vi Peel. Look radiant with a microdermabrasion or a custom facial. Improve the texture of your skin, lighten your blemishes, smooth fine lines with one of our physician strength skin care systems. Reduce wrinkles and cellulite while tightening your skin and contouring your body with our Accent laser. Contact us today to make an appointment for a chemical peel in Arlington VA and start looking younger today!