Your eyes are your window to the world, and usually the first thing anyone looks at when making conversation with you. So why not compliment them by making your eyelashes full and beautiful? With Latisse® you can! Latisse® gives you thicker, longer, and darker lashes that will make it hard for anyone not to look at you!
It's Your Own Eyelashes - Only Better!!!
For years women have used mascara to give the appearance of fuller, darker lashes, but mascara can only do so much. It won't grow you those long lashes you've always wanted, but Lattise can®. And using mascara and Latisse® in tandem can lead to eye-catching results that would be hard for anyone to miss!

Fake eyelashes are hard to apply, a nuisance, and look unnatural. Eyelash extensions fall off too soon, take a long time to apply, and are expensive. Have you ever wished your own lashes would grow longer, thicker, and darker? Now they can, with LATISSE®, FDA-approved to encourage the growth of your own eyelashes.

What is Latisse®?

Latisse® is a topical solution, and the first FDA approved prescription drug (bimatoprost ophthalmic solution) 0.03% that is used specifically for the treatment of hypotrichosis or inadequate or not enough lashes.

Latisse is the first and only FDA approved eyelash enhancement product. Produced by Allergen (the same company who manufactures Botox), the prescription is used to treat hypotrichosis, a technical term for having too few eyelashes.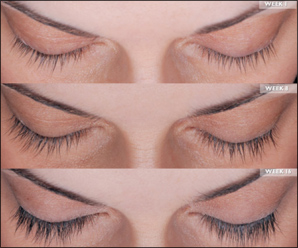 How Latisse® works:

Beauty can take time. After beginning treatment, you must apply the topical solution to base of the upper eye lashes each night and follow directions for optimal results. Latisse® works gradually by first affecting the growth phase of the eyelash hair cycle; first in length, and then by increasing the number of hairs growing. You'll begin to show results after the fourth week, with full measurable results revealed after 12 to 16 weeks. Finally, after the 16th week, full results will be relieved - fuller, thicker, longer, darker eyelashes.

If for any reason you stop using Latisse®, your eyelashes will return to their previous appearance over a period of several weeks to a few months. If you forget one or more applications of Latisse®, not to worry, just start back up again the following evening.

If you wear contact lenses you can still use Latisse®, just make sure you take them out prior to application, and wait 15 minutes following application before putting contacts back in your eyes.

Start Today!
So what are you waiting for? Start growing thicker, darker, longer more beautiful lashes that are your very own.
The Advanced Plastic Surgery Center offers a five-star experience and a non-surgical approach to maintaining your beauty and youth as you age. Look younger and more vibrant in just one visit! Eliminate signs of aging with non-surgical treatments such as BOTOX Cosmetic, Juvederm, Radiesse, Restylane and the latest Vi Peel. Look radiant with a microdermabrasion or a custom facial. Improve the texture of your skin, lighten your blemishes, smooth fine lines with one of our physician strength skin care systems. Reduce wrinkles and cellulite while tightening your skin and contouring your body with our Accent laser. Contact us to today to make an appointment and starting looking younger today!